About us
Rawhide is going into it's 46th year of existence and and has been renowned in Europe for stretching the boundaries of bluegrass towards other styles of music such as barbershop, classical, swing and pop.
Their live shows combine a variety of tasteful instrumental and vocal music with lots of humour, both during and between the songs.
A show with Rawhide is always special and different than with any other bluegrass band. With Rawhide you can expect the unexpected.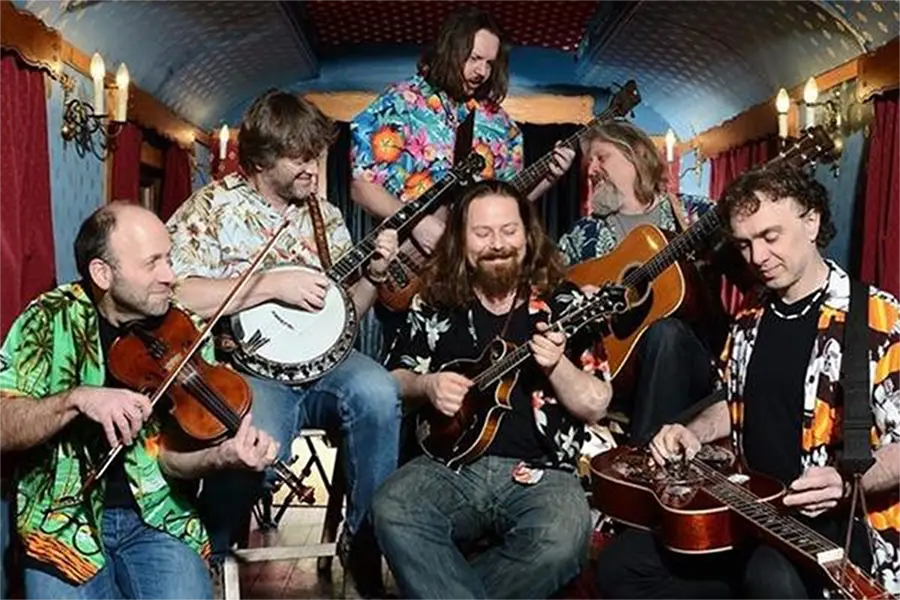 The band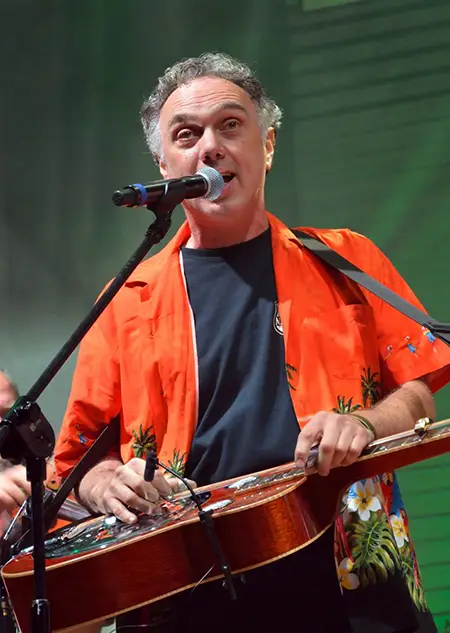 Dirk Peeraer (1963)
Dobro and vocals
Dirk joined Rawhide in 1982! First as a guitar player. Later he switched to the banjo and from 1991 to the dobro. But he's also very able on bass and even on mandolin. Dirk sings most tenor parts with Rawhide, but has no problem switching to baritone when a cold prevents him to reach the high notes.
Bert Van Bortel (1961)
Guitar and vocals
Bert plays every stringed instrument except a tennis racket. He's a musical genius and has a nose for new material. He's also known as the "Bluegrass Casanova", as women can't resist his musical charms. He wrote a song about this phenomenon logically entitled: "I could love a million girls".
As Bert is the real man of the band he sings bass in all the quartets. Bert has been playing the mandolin with Rawhide since 1985 but now mostly plays the guitar, with that same solid energy. This guy for sure ain't no sissy !
Dirk Fonteyn (1963)
Fiddle and vocals
Dirk masters both Irish and bluegrass fiddle and joined Rawhide in 1991. He grew up next to the Palm brewery of Steenhuffel and we suspect he was not only raised with milk. One indication is that he can effortlessly write in mirror writing. Dirk is also a gifted graphic designer and probably the nicest guy on this planet.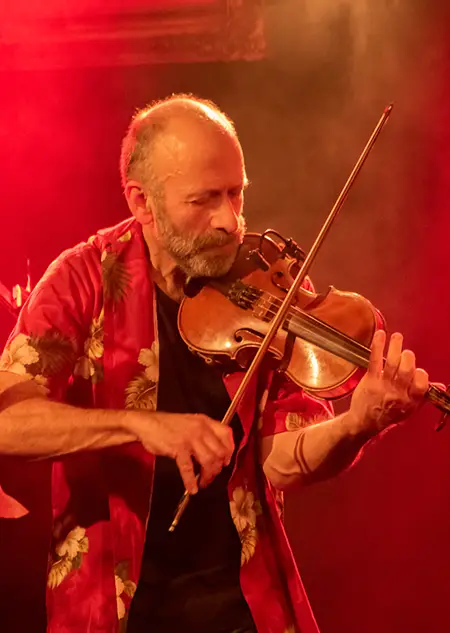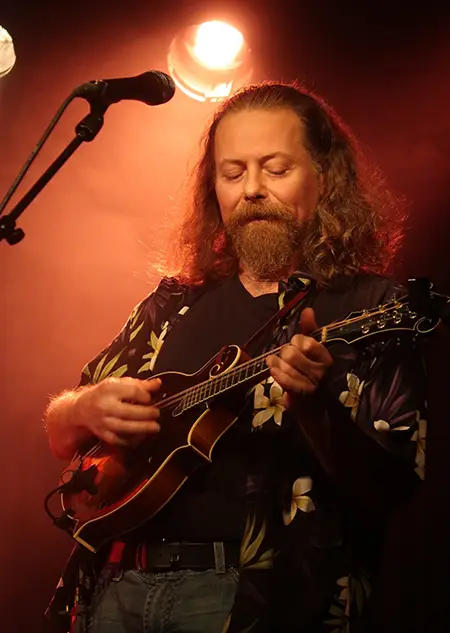 Jeff Cardey (1974)
Mandolin, guitar and vocals
Jeff, born in Winnipeg (Canada), has been a member of various musical groups in a broad range of styles from classical to jazz and fusion and has played solo mandolin with the Toronto Mandoilin Orchestra.
Bluegrass slowly came into his life through Irish and then old time music. He taught himself mandolin after completing his studies in classical guitar at the Toronto University. The love for his wife brought him to Europe and the love for bluegrass to Rawhide !!!
Thierry Schoysman (1966)
Banjo and vocals
Thierry also joined Rawhide in 1991 after having spent many years playing the banjo with several country bands as he couldn't find people to do the real stuff : playing bluegrass !
He can sing most harmony parts and is also the mandolin player with The Sons of Navarone. Thierry is also actively involved with the European Bluegrass Music Association and started up a site called Bluegrass in Belgium. He's also a fanatic disciple of his banjo hero and long time friend Bill Keith.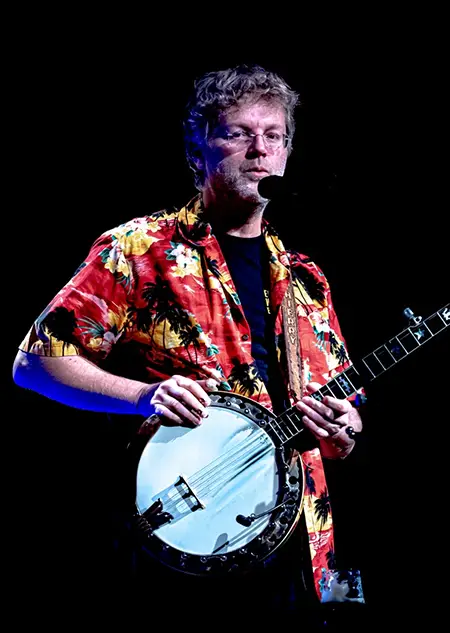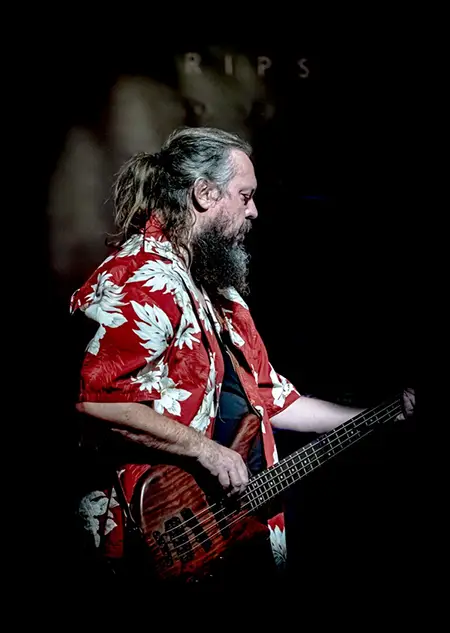 Dimi Laverno (1971)
Bass and vocals
Dimi decided at age of 6 to become a singer. Hereceived his frst guitar at 10 and after a fewboring years at music school and violentelectric noizes in obscure underground placesthe bass seemed to be his instrument ofpredilection. As a bassist / singer he evolvedfrom metal to rock to pop to folk to countryand at last - his favourite style - bluegrass!The "metal of country" as he calls it.
Awards and prizes
| | |
| --- | --- |
| 1982 | Winner "Silver Guitar" in "Kaddish , Bluegrass& Folkfestival" in Schoten, Belgium |
| 1983 | Winner "Silver Fiddle" "International Country Festival" in Uden, Netherlands |
| 1985 | Winner "Toulouse Bluegrass Festival" in Toulouse, France Winner "Belgium Country Music Masters" and represented Belgium to the "Euro Country Music Master" in Belgium |
| 1990 | Winner "Belgium Country Music Masters" and represented Belgium to the "Euro Country Music Master" in Switzerland |
| 2006 & 2007 | 3rd place "audience popularity award" at EWOB in Voorthuizen, Netherlands |
| 2010 & 2012 | 3rd place "European Bluegrass Band" at EWOB in Voorthuizen, Netherlands |
| 2016 | 2nd place "European Bluegrass Band" at EWOB in Voorthuizen, Netherlands |